The Field Trip to the Zoo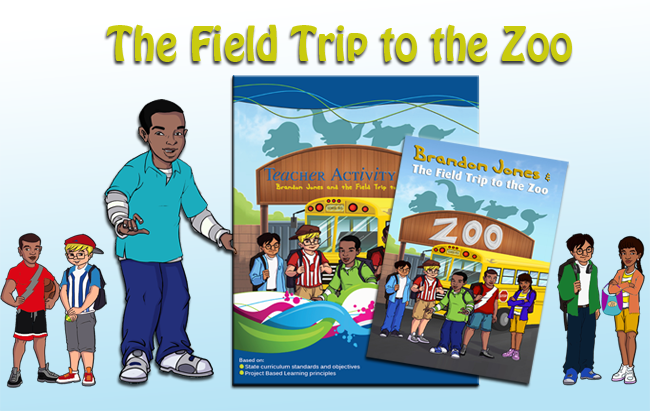 Entertainment with a purpose!
Content Focus: Science, Financial Literacy
View Sample Chapter
Sample TAP
Brandon Jones and his friends attend a school field trip to the zoo with a twist - they're participating in a scavenger hunt race! Brandon's group is determined to win the race. Using a map of the zoo, the friends devise a plan to learn as much about each animal group as they can before the field trip.
During the field trip/scavenger hunt, however, the group is stumped by a mystery card they just can't seem to answer. Time is running out as their classmates begin to catch up with them. Will Brandon and his friends be able to solve the mystery in time to win the race? Find out when you read Brandon Jones and the Field Trip to the Zoo!
Students learn about animal groups and characteristics while engaged in a classroom scavenger hunt competition.
Summary of TAP: This TAP includes chapter comprehension pages, detailed project information, and tips for implementing Project-Based Learning (PBL) activities.
The enrichment portion includes activity pages exploring:
vocabulary
a variety of pages exploring habitats and animal characteristics
telling time
adding/subtracting money
analyzing & writing haiku poetry
mapping skills
...and more!
---
Order your copy today!
Contact us for special pricing on classroom sets or bulk ordering.
Book Only
$8.95
Chapter Book for Grades 1-4
Vocabulary terms
Diverse characters
Fun and engaging story!
Workbook Only
$14.95
Includes Teacher Activity Pack (TAP)/workbook only
Includes information on PBL and technology integration(plus all student activity pages)
Includes Project activities, complete with sample rubrics
Activity Pack Combo
$21.50
Savings of 10% when you purchase the combo!
Includes Book and Teacher Activity Pack (TAP)/Workbook
Workbook includes Comprehension, Enrichment, and Vocabulary activity pages
Covers all subject areas
Over 100 pages, full color
Series Box Set
$39.99
Savings of over 15% when you purchase the box set!
Includes:
Field Trip to the Zoo
(book & TAP combo)
Great Business of Summer
(book & TAP combo)